Dyson To Build UK Site To Test Electric Vehicles
Dyson plans a new purpose-built development facility in southern England to test prototype electric vehicles as the household appliances maker inches towards breaking into the motor industry.
The group behind the eponymous vacuum cleaner and hand dryer has applied for planning permission for a £116m expansion to its Hullavington site in Wiltshire that will allow it to test the abilities of the cars already being developed at the second world war aircraft base.
The plans include an off-road track, a high-speed racing circuit and offices that can accommodate up to 2,000 extra workers.
"We are now firmly focused on the next stage of our automotive project strengthening our credentials as a global research and development organisation," said Jim Rowan, Dyson chief executive.
He added that Hullavington "will quickly become a world-class vehicle testing campus where we hope to invest £200m, creating more high-skilled jobs for Britain".
Company set for transformation
The extension is part of Dyson's £2bn attempt to break into the industry with a series of electric vehicles. The venture will either change the company beyond recognition as its automotive operations outgrow the rest of the business, or imperil the innovation empire built up over decades by its ambitious billionaire founder James Dyson.
The company plans to bring the first of its vehicles to market by 2021, a timescale industry analysts regard as highly ambitious.
How the interior of the Hullavington site is expected to look © Dyson
The announcement comes as another of Britain's most successful living businessmen, chemicals tycoon Jim Ratcliffe, embarks on his own efforts to break into the automotive arena.
The man behind Ineos, the international chemicals and energy empire that is Britain's largest privately owned company, is developing what he calls the "spiritual successor" to the Land Rover Defender — the classic off-roader that went out of production in 2016 but which JLR intends to resurrect.
The advent of electric cars, which are easier to manufacture because they have fewer moving parts than petrol vehicles, has given rise to an extraordinary number of new businesses trying to break into the industry, from Tesla in the US to more than 300 start-up companies based in China vying to make the next generation of battery-powered vehicles.
UK struggles to lure electric technology
But as Britain tries to place itself on the global map for electric technology, it is struggling to woo manufacturers.
While Nissan makes its electric Leaf car in Sunderland, Jaguar Land Rover has opted to build its first battery car, the I-Pace, in Austria, and BMW is making the batteries for its electric Mini in Germany. Peugeot, which will begin making hybrid vans at Vauxhall's Luton plant, will also import its technology.
I think Dyson underestimate the scale of the challenge in developing a car
Officially, the UK remains a viable contender for Dyson's manufacturing hub, although the company closed its British factories more than a decade ago, It has also shortlisted Malaysia and Singapore, where it already has manufacturing operations — including lithium ion batteries, as well as China, which Dyson expects to be its largest automotive market.
Both Mr Dyson and Sir Jim have openly asked the UK government for significant funding to strengthen the case for manufacturing in the UK. Dyson has received £16m towards its development of an electric car.
Ineos, meanwhile, is employing Magna, a well known contract manufacturer, to engineer its vehicle.
Dyson is expected to make a final decision on its manufacturing venue in the coming months.
The company has emphasised that its cars would be developed in Britain, in an attempt to underscore its heritage as an invention house.
Wisdom of plans questioned
The site at Hullavington, which originally housed Mosquitoes, Spitfires and Lancaster bombers and later became a centre for parachute training, already has two runways that will form part of the new development, because they are ideal for high speed trials.
As well as its offices, Dyson wants to build a handling track to test the dynamics of its cars, a large flat testing area for maneuverability, a rugged off-road course, a hill route that will allow its cars to emulate fast driving along testing Alpine roads, and a high speed track.
The conditions, which are fairly standard for an automotive group, show that Dyson is preparing to build vehicles for a wide variety of purposes. This is partly to spread the vast development costs but also to give it opportunities to test different parts of the market.
At least one of its planned cars is intended to rival Range Rover, Jaguar Land Rover's flagship sport utility vehicle that has extensive off-road capabilities, according to two people with knowledge of its early product plans.
A computer generated image showing how Dyson's Hullavington site will look © Dyson
However, David Bailey, professor of manufacturing and automotive at Aston University in the Midlands, said both projects risked underestimating the complexities of developing vehicles from scratch.
"I think Dyson underestimate the scale of the challenge in developing a car," he said. "I'm not sure how long they can go it alone without partnering."
He cited Tesla, which has poured billions into its cars and struggled to make a profit.
Prof Bailey also said Ineos risked incurring huge costs with developing an off-road vehicle.
"Far be it for me to tell a successful businessman that it's a vanity project, but it'll be extremely difficult for him to turn a profit, unless it's small niche volume with highly personalised products."
Dyson's plans to enter the enormously competitive industry hinge on its battery technology, including research into solid-state batteries that hold more energy than current lithium ion rivals.
The FT has reported that the company plans to use lithium ion in its first vehicle, because of difficulties with bringing solid state technology to market in time for its debut car.
Dyson Gears Up For Electric Car Testing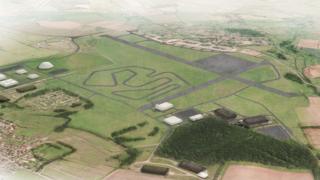 Image copyright Dyson Image caption An impression of Dyson's electric car test track at Hullavington in Wiltshire
Dyson has unveiled plans for a 10-mile test track in Wiltshire where its new electric cars will be put through their paces.
The track and other facilities are part of a plan to start selling a "radical" electric car from 2021.
The company best known for its vacuums and domestic appliances bought the disused airfield at Hullavington two years ago.
Dyson has already renovated two hangars built in 1938 at the 517-acre site.
That redevelopment has cost of £84m and the next phase of the airfield's development would take Dyson's total investment to £200m.
About 400 automotive staff are now based at Hullavington and a further three buildings will open in the coming months, offering an additional 15,000 sq m of testing space.
Dyson to make electric cars
'Back our scientists' says Dyson
Jim Rowan, chief executive of Dyson, predicted that Hullavington would soon become a "world-class vehicle testing campus".
"We are now firmly focused on the next stage of our automotive project strengthening our credentials as a global research and development organisation," he said.
Image caption Sir James Dyson says his electric car will be "radical"
Sir James Dyson, 71, is yet to reveal any details about his electric car and no prototype has been built.
However, it is expected to be aimed at the upper end of the market, will have "some" driverless features and may not even look like a conventional vehicle, he told GQ magazine earlier this month: "What we're doing is quite radical."
The hints suggests Dyson's vehicle is more likely to rival Elon Musk's electric carmaker Tesla than the likes of Toyota or Volkswagen.
It remains unclear where Dyson plans to build its electric car.
Image copyright Dyson Image caption About 300 workers are now based at Dyson's Hullavington facility
The company, whose products cost as much as £500, came in for criticism in 2002 for its decision to move production of its vacuum cleaners from the UK to Malaysia at the cost of 560 jobs.
Dyson, which made its 100 millionth machine last year, posted a 40% rise in turnover to £3.5bn as sales soared in Asia, while profits jumped by a third to a record £801m.
It has more than 12,000 staff, including 4,500 engineers and scientists, with 4,800 employees in the UK.
The company is based close to Hullavington at Malmesbury, where it has set up a training institute for technology and engineering students.
The R&D site was originally an RAF training station, first opened in 1937, and it played a significant part during the Second World War as a flight school and base for about 1,000 aircraft.
[prosperInsert q="power protection " gtm="merchant" v="grid" id="CCTV_Video_Power_Protection_Device_Surge_Lightning_Arrester~Rca_Pchstat2r_Travel_Charging_Station_With_Surge_Protection_&_Device_Cradle_(white)~Tripp_Lite_Hdbaset_Lite_Hdmi_Over_Cat5e_Cat6_Extender_Serial_Ir_230ft_Range_-_1_Input_Device_-_1_Output_Device_-_2_X_Network_(rj-45)_-_1_X_Hdmi_In_-_1_X_Hdmi_Out_-_4k_-_3840_X_2160_-_(bhdbt-k-si)~Lithium-ion_Battery_(PRO_Series_Dog_Devices)~IDEAL_Tone_Generator_and_Amplifier_Probe_Kit_-_1_x_RJ-11_,_1_x_F_Connector_-_Network_Testing_Device~MobileTrust_Keystroke_Encryption_for_Mobile_Devices_(2-device_protection,_1_year,_Android/iOS)_(Boxed)~Tripp_Lite_Hdbaset_Lite_Hdmi_Over_Cat5e_Cat6_Extender_Serial_Ir_328ft_Range_-_1_Input_Device_-_1_Output_Device_-_2_X_Network_(rj-45)_-_1_X_Hdmi_In_-_1_X_Hdmi_Out_-_4k_-_3840_X_2160_-_(bhdbt-k-si-lr)~Power_First_33V811_Gray_Surge_Protection_Outlet_Strip~Power_First_33V812_White_Surge_Protection_Outlet_Strip~CyberPower_CSHT1208TNC2G_Home_Theater_Energy_Saving_12-Outlets_Surge_NET_and_AV_protection_-_12_x_NEMA_5-15R_-_4350J125V_AC_Input_-_125V_AC_Output~" ft="fetchProducts" vst="Visit Store" imgt="original" fb="CCTV_Video_Power_Protection_Device_Surge_Lightning_Arresterquery_power protection devices_~Rca_Pchstat2r_Travel_Charging_Station_With_Surge_Protection_&_Device_Cradle_(white)query_power protection devices_~Tripp_Lite_Hdbaset_Lite_Hdmi_Over_Cat5e_Cat6_Extender_Serial_Ir_230ft_Range_-_1_Input_Device_-_1_Output_Device_-_2_X_Network_(rj-45)_-_1_X_Hdmi_In_-_1_X_Hdmi_Out_-_4k_-_3840_X_2160_-_(bhdbt-k-si)query_power protection devices_~Lithium-ion_Battery_(PRO_Series_Dog_Devices)query_power protection devices_~IDEAL_Tone_Generator_and_Amplifier_Probe_Kit_-_1_x_RJ-11_,_1_x_F_Connector_-_Network_Testing_Devicequery_power protection devices_~MobileTrust_Keystroke_Encryption_for_Mobile_Devices_(2-device_protection,_1_year,_Android/iOS)_(Boxed)query_power protection devices_~Tripp_Lite_Hdbaset_Lite_Hdmi_Over_Cat5e_Cat6_Extender_Serial_Ir_328ft_Range_-_1_Input_Device_-_1_Output_Device_-_2_X_Network_(rj-45)_-_1_X_Hdmi_In_-_1_X_Hdmi_Out_-_4k_-_3840_X_2160_-_(bhdbt-k-si-lr)query_power protection devices_~Power_First_33V811_Gray_Surge_Protection_Outlet_Stripquery_power protection _~Power_First_33V812_White_Surge_Protection_Outlet_Stripquery_power protection _~CyberPower_CSHT1208TNC2G_Home_Theater_Energy_Saving_12-Outlets_Surge_NET_and_AV_protection_-_12_x_NEMA_5-15R_-_4350J125V_AC_Input_-_125V_AC_Outputquery_power protection _~"][/prosperInsert]